2022 State Convention Ads Instructions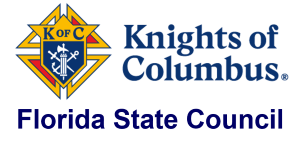 January 6, 2022
Re: 2022 Florida State Council Convention Advertising and Sponsorship Solicitations
Worthy State Officers, Directors, Chairmen, Regional Directors, District Deputies, Grand Knights, General Agents and Brother Knights,
As you may already know, the 118th Florida State Convention will be in-person May 13-15, 2022.
The Florida State Council requests every Brother Knight be involved with the 2022 Knights of Columbus Florida State Council Convention Advertising and Sponsorship solicitation effort.
It is imperative that we act now and submit the appropriate forms for Convention Ad submissions. Deadline is April 1st, 2022.
All District Deputies are respectfully requested to place a $500 full page ad in the Program Book. This is accomplished by soliciting each of your Councils and Assemblies for their proportional share. In addition, all Brother Knights, especially our State, Regional, and District Leadership, are requested to help find commercial and business advertising for the Program Book as well as key sponsorships for the State Convention.
DISTRICT AD PROCEDURE:
DDs - Fill out the Program Ad order form and return to Marc Andersen with a check made payable to: Florida State Council
Email a separate DD Word document using Arial 12 font with your District Council & Assembly information in the following format:
Council # and name

GK name

FS name

Chaplain name
Same information is needed for Assemblies and Columbiettes.
MAIL TO:
Marc R. Andersen
1909 Elk Spring Dr.
Brandon, FL 33511
Request that Regional Directors assist in stressing the urgency to get these forms in early and with payment.
ADVERTISING OBJECTIVE - offset convention costs and present a better convention experience offer to all attendees whether in-person or virtual.
BUSINESS ADVERTISING AND SPONSORSHIPS
All Brother Knights are encouraged to solicit and promote their businesses, commercial businesses, and related organizations for the purpose of partnering with the Florida Knights on the following
Program Book Advertisement

Sponsorship of Key Convention Events

Exhibit Tables for the Convention Trade Show

Donation of Promotional Items

.
Review the offerings and present them to everyone you know - Brother Knights, Brother Knight business owner, Commercial Business Owners with affinity for our principles, Non-Profit Corporations that do similar work and Service Providers in other fields of endeavor aligned with Knights of Columbus.
A sponsor vetting process will be conducted by the Marketing committee along with the State Advocate for each business entry.
All forms will be available on the website with open access.
Let do it! – Our State Goal is $50,000.
Vivat Jesus,
Marc R. Andersen
813.966.4288
Attachments:
DD Ad Electronic Payment Option